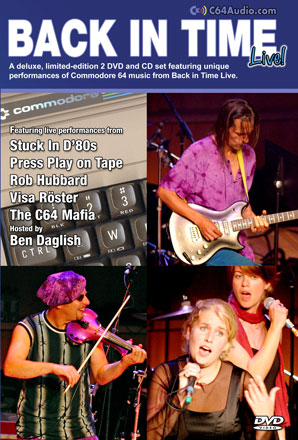 A 3-disk De Luxe DVD package, limited-edition.
Amazing live performances recorded at Brighton Centre (2003) and St. Luke's LSO (2004). Stuck in D'80s, Rob Hubbard, Press Play on Tape, Visa Röster, The C64 Mafia.
2 DVD and CD set featuring unique performance of Commodore 64 music from Back in time Live. Consists of DVD1 (St. Luke's concert), DVD2 (Rob Hubbard live at the Brighton Centre), and an audio CD of the best tracks from both.
All disks playable on normal DVD players, PAL Region 0 DVD. Highlights include "I'm a Pumpkin Man" Live, Visa Roster's International Karate complete with guest sprites, and Stuck in D'80s Spellbound, featuring the most amazing violin solo ever.
Content:
DVD 1 - PRESS PLAY ON TAPE - Warhawk - Crazy Comets - Sacred Armour of Antiriad - Arkanoid - Commodore - The Last Ninja - Wilderness - Roland's Rat Race - Monty on the Run - Das Gamer - Wizball High Score - Pumpkin Man - Phantoms of the Asteroid - Great Giana Sisters - One Man and his Droid - C64 Mafia - You Were There - 1942 - Forbidden Forest - Deathwish III - Breakdance - Visa Röster - Sweet - Human Race - Tune 4 - Think Twice III - Comic Bakery - Think Cross - International Karate - Spy vs Spy Medley - Armageddon Man - Stuck in D'80s - Exploding Fist/IK - Pimple Squeezer - Deflektor - Paperboy / Arcade Classics - Spellbound - Rasputin
DVD 2 - Rob Hubbard (Brighton, 2003) - Virgin Atlantic Challenge - Spellbound - Commando High Score - Crazy Comets High Score - Gerry the Germ - Human Race - Tune 4 - Moonlight Sonata - One Man and his Droid - Sam Fox Strip Poker - Sanxion - Thing on a Spring - Way of the Exploding Fist - Pimple Squeezer - Back in Time Live Brighton
CD - PRESS PLAY ON TAPE - Warhawk - Arkanoid - Pumpkin Man - Wizball High Score - Monty on the Run - C64 Mafia - Forbidden Forest - Visa Röster - Human Race - Tune 4 - Comic Bakery - International Karate -Armageddon Man - Stuck in D'80s - Paperboy and Arcade Classics - Spellbound - Rasputin - Rob Hubbard (Brighton 2003) - Virgin Atlantic Challenge - Human Race - Tune 4
Get your hand on this package now ! - All files DRM free -