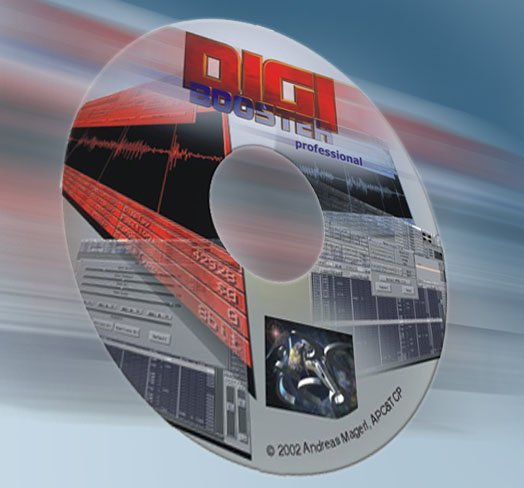 DigiBooster Pro - The next Generation Tracker - With a little patience, interest and some feeling for rhythm within your venes you will soon discover all those various possibilities for producing music with Digibooster Professional.

Below some of the features DigiBooster brings to You !
Trackfeatures:
128 Tracks
256 Samples (sound files with no size limitation)
1024 Patterns
1024 Positions
Track format loading:
Digibooster 1.x (digi)
Protracker (mod)
Oktalyzer (okt)
Octamed (mmd0-mmd3)
OctamedSoundStudio (oss)
FastTracker (xm)
ScreamTracker (s3m)
Sample format loading:
IFF 8SVX (mono - 8 Bit)
IFF 16SV (mono - 16 Bit)
RIFF WAV (mono/stereo - 8/16 Bit)
AIFF (mono/stereo - 8/16 Bit)
MP3 (CBR) Import LayerI-III
With the following extras there are nearly no limits for the creativity:
(B)eats (P)er (M)inute Pitcher
DSP Echo (Echo Delay, Feedback, Mix and Cross)
Volume envelopes
Balance envelopes
Roland TB-303 "GrooveBox" Emulation 8not realtime)
HD recording for samples using AHI Harddiskrecord
Optional realtime 32 bit HIFI mixing with linear interpolation
Two different commands per trace at the same time
Almost all shortcuts and commands are compatible with ProTracker
Up to 7 Oktaven
CyberGraphX & Picasso96 card support
Thanks to AHI support every AHI soundcard can be used
and many more ...
System requirements:

Amiga - Minimum configuration
68020 CPU
2 MB availble RAM
Kickstart 2.0
ahi.device Version 4 (or better)
asl.library
iffparse.library
reqtools.library

Amiga - Recommended configuration
68060 CPU
10 MB availble RAM (for huge projects with 16 bit samples even more might be required)
Kickstart 3.1
Gfx card
Sound card

Pegasos - minimum configuration
Gx CPU
min. 2 MB availble RAM
MorphOs 1.4
ahi-device Version 4 (or better)
asl.library
iffparse.library
reqtools.library
Some screenshots, click pictures for a larger view !








You can come to start with DigiBooster on your Amiga or Pegasos already today !

You are very welcome, and we wish you all success !

More information about DigiBooster is also to find at: DigiBooster Home Page