The
Amiga computer
, launched by Commodore in 1985, combined superior multimedia technology with ease of use, inspiring millions of the most creative and enthusiastic computer users ever.

Amiga Forever is the award-winning Amiga preservation, emulation and support package brought to you by Cloanto, Amiga developers since 1986.
The Premium Edition of Amiga Forever
blends high-quality software and original content with the ultimate set of videos to chronicle and let you experience firsthand the history, culture, challenges and passion behind the Amiga. It contains all Amiga Forever and Amiga Explorer products including all content for all platforms (i.e. for both Windows and other systems), and all videos. The CD is Live booting through KX Light. Almost 20GB of software.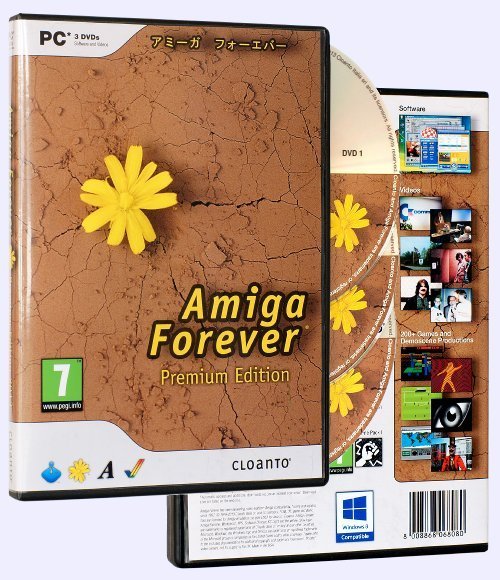 Features in Amiga Forever 8 includes:

Emulation of Amiga hardware (allows you to run Amiga software on your PC*)
Original Amiga ROM and OS files (all versions from 0.7 to 3.X)
Additional emulation and drivers (RTG, SCSI, TCP/IP, AHI, CDTV, CD³², etc.)
Preconfigured WinUAE and WinFellow emulation engines with auto-updates**
Preinstalled games, demos and applications (web browser, paint, etc.)
Support for thousands of downloadable Amiga games, demos and applications***
Amiga Explorer and Amiga Files data sharing framework
Optionally-bootable CD, based on KX Light (boots your PC into Workbench)
More than five hours of "must-see" Amiga videos (two DVDs)
Special features and gallery of items of historical interest
Much, much more...
The Amiga Forever 8 Premium Edition package contains:

- DVD - Amiga Forever Plus Edition DVD

OS ROM file versions v. 0.7, 1.0, 1.1, 1.2, 2.04, 2.05 (Workbench 2.1 uses the 2.0x ROMs), 3.1 and 3.X
OS disk images (ADF files) v. 1.0, 1.1, 1.2, 2.1 and 3.1
Preinstalled Workbench 3.X environment, including dozens of award-winning software packages and other add-ons
Amiga 1000, A590 and A4091 boot ROMs
CDTV extended ROM (CDTV uses normal 1.3 boot ROM)
CD³² ROM and extended ROM
Amiga Forever Boot Floppy Disk image
Ability to boot on a PC (El Torito specification)
Amiga Forever Game Pack I
More than 300 MB of preinstalled games and demoscene productions
Dave Haynie 2009 Interview (2009, 30')
Dave Haynie 2009 Interview - HD (2009, 30')

Videos

Media: 2 DVDs
DVD region: 0 (all regions)
Video system: NTSC (compatible with most PAL players)
Aspect ratio: 4:3 (videos respect original format)
Audio: English stereo, English mono
Subtitles: English, Italian
Special features: interactive menus, scene access
Audiences: PG (infrequent bad language, use of alcohol)

- DVD 1 - Amiga Forever video DVD 1

Launch of Amiga (1985, 17')
Inside Commodore (1988, 40')
Jay Miner Speech (1989, 49')
Jay Miner Interview (1990, 9')
History of the Amiga (1992, 43')

- DVD 2 - Amiga Forever video DVD 2

The Deathbed Vigil (1994, 118')
Dave Haynie Interview (2001, 55')
Amiga Faces Picture Gallery (1988-2005, 50')
Software Content, DVD

Preinstalled and ready-to-run Amiga OS 1.3 and 3.X environments.
Preinstalled Amiga OS 1.3 environment (for compatibility with older games and other software) and Amiga OS 3.X environment (for productivity, internet access, etc.), running on top of a powerful JIT-enabled Amiga hardware emulation which also supports Amiga custom chips, RTG, SCSI, TCP/IP, AHI, up to 512 MB of Zorro III RAM, virtual memory, MIDI, native x86 code, etc. More...
Preinstalled games, and support for downloaded games
Preinstalled demos, including more than 10 original "First Demos" by Amiga, and support for downloaded demos
A multitude of carefully-preinstalled quality Amiga applications, which include the AWeb browser (great for cross-browser testing), TCP/IP support tools, Personal Paint 7.1c (paint, animation and image processing software, includes GIF/LZW license), special version of CacheCDFS CD file system, AmigaAMP media player, DirDiff (file synchronization and replication software), AmiToRTF (to convert texts from Amiga to Windows formats), MailBX (to convert Amiga mail archives to Microsoft Mail, Outlook Express and Exchange Server), drag-and-drop LhA, print spooler, Directory Opus 5.5 (courtesy of GPSoftware), TurboText (exclusive latest version with bug fixes), MUI (shareware version), KingCON, FreeWheel, PowerSnap, ToolManager, ReqTools, etc.
Compatibility with Amiga OS "3.5"+ icons, NewIcons and MagicWB icons
Amiga Narrator and Translator speech synthesis components (made available for distribution with the Amiga OS for the first time since 1991, when Commodore-Amiga's licenses expired)
Latest versions of WinUAE and WinFellow tested and supported by Cloanto (non-Windows versions included and/or available too)
Launcher window with one-click controls
Amiga Files software and folder to support future Windows systems
Software Director for easy and privacy-conscious emulation news and updates
Gallery of multimedia items of historical interest
KX Light boot environment, to optionally boot from CD (no Windows or other host OS required)
Amiga Explorer software
Additional Plus Edition Content
A unregistered shareware version of P96.
System Requirements

(Windows Software)
Operating system: Windows XP SP3, Windows Vista, Windows 7, Windows 8, Windows 10, or equivalent Windows Server editions
CPU: 750 MHz (1 GHz recommended)
RAM: 512 MB (1 GB recommended)
Hard disk: 400 MB free
Video: high color or true color
Sound: optional
DirectX: 9.0 or higher
Audiences: 7+ (depictions of violence)
* Emulation software for Windows is ready to run (from CD or after installation, no additional downloads required). ROM and OS files can be used for emulation on other platforms (e.g. Mac OS, GNU/Linux, etc.), but may be unsupported and may require download and manual installation of additional free software. Due to hardware differences, Amiga floppy drives and some other peripherals cannot be connected to non-Amiga hardware, even if running an emulation.

** Automatic updates and additional downloads require internet connection. Download sites are listed on the web site.

*** Experimental feature for advanced users. May not work on all hardware.

Amiga Forever has been delivering cross-platform Amiga compatibility, history and support since 1997. © 1979-2009 Cloanto Italia srl and its licensors. ROM, OS, game and demo files are licensed for Amiga emulation use only. Cloanto, Amiga Forever, Amiga Explorer, Workbench, Software Director, KX Light and the yellow daisy logo are trademarks, or registered trademarks of Cloanto Italia srl in Italy and/or other countries. Microsoft, Windows, the Windows logo and DirectX are trademarks, or registered trademarks of Microsoft Corporation in the United States and/or other countries. Please refer to the included documentation for additional copyright and trademark information. Unrated video content, not for supply in the UK. Made in the EU.