Lägg denna produkt i varukorgen.
(Artikel id: 11001)
Put this product into the shopping cart.

Ubuntu Unleashed 2015 Edition
About the book

Ubuntu Unleashed 2015 Edition is filled with unique and advanced information for everyone who wants to make the most of the Linux-based Ubuntu operating system. This new edition has been thoroughly revised and updated by a long-time Ubuntu community leader to reflect the exciting new Ubuntu 14.10 while including tons of information that will continue to apply to future editions.

Former Ubuntu Forum administrator Matthew Helmke covers all you need to know about Ubuntu 14.10 installation, configuration, productivity, multimedia, development, system administration, server operations, networking, virtualization, security, DevOps, and more-including intermediate-to-advanced techniques you won't find in any other book.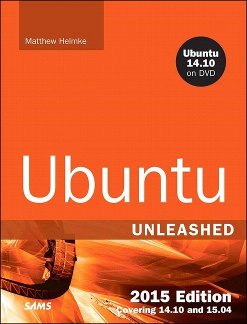 Helmke presents up-to-the-minute introductions to Ubuntu's key productivity and Web development tools, programming languages, hardware support, and more. You'll find new or improved coverage of Ubuntu's Unity interface, various types of servers, software repositories, database options, virtualization and cloud services, development tools, monitoring, troubleshooting, Ubuntu's push into mobile and other touch screen devices, and much more.
Ubuntu Unleashed 2015 Edition

includes a range of coverage: From the software you need everyday for productivity and enjoyment, to how to configure your Linux desktop to run smoothly, to advanced topics like systems administration and software development, and much more.
Configure and customize the Unity desktop
Get started with multimedia and productivity applications, including LibreOffice
Manage Linux services, users, and software packages
Administer and run Ubuntu from the command line
Automate tasks and use shell scripting
Provide secure remote access and configure a secure VPN
Manage kernels and modules
Administer file, print, email, proxy, LDAP, DNS, and HTTP servers (Apache, Nginx, or alternatives)
Learn about new options for managing large numbers of servers
Work with databases (both SQL and the newest NoSQL alternatives)
Get started with virtualization
Build a private cloud with Juju and Charms
Learn the basics about popular programming languages including Python, PHP, Perl, and new alternatives such as Go and Rust
Learn about Ubuntu's work toward usability on touch-screen and phone devices
Written by:
Andrew Hudson, Paul Hudson and Matthew Helmke
En presentationsvideo - Canonical ODS:
Andrew Hudson
is a freelance journalist who specializes in writing about Linux. He has significant experience in Red Hat and Debian-based Linux distributions and deployments and can often be found sitting at his keyboard tweaking various settings and config files just for the hell of it. He lives in Wiltshire, which is a country of England, along with his wife, Bernice, and their son, John. Andrew does not like Emacs.

Paul Hudson
is a recognized expert in open-source technologies. He is also a professional developer and full-time journalist for Future Publishing. His articles have appeared in Mac Format, PC Answers, PC Format, PC Plus and Linux Format. Paul is passionate about free software in all its forms and uses a mix of Linux and BSD to power his desktops and servers. Paul likes Emacs.
DVD includes:
DVD includes the full Ubuntu 14.10 distribution for 64 bit computers (most desktop and notebooks systems today) as well as the complete LibreOffice office suite and hundreds of additional programs and utilities.

912 pages
ISBN-10: 0-672-33837-8
ISBN-13: 978-0-672-33837-3
Published: November 21, 2014