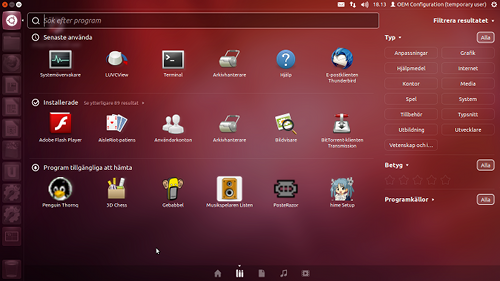 Ubuntu - edition 18.04 LTS (Long Term Support)

More and more people realise the advantages of using Ubuntu and Linux-based systems. We have a long history of working with Linux-based systems and our goal is to offer the most appealing computing environment available.

Ubuntu does offer the most well organized desktop environment You can find. As an example it includes an easy to use and well integrated software package management system and the software portfolio includes everything you need on a daily basis. Furthermore You can feel safe while reading your email correspondence or visiting web pages on the net.

We are very proud of being able to deliver Your computer pre-installed with Ubuntu and we spend a lot of time and effort to be able to offer You the absolutely best of what the free software world has to offer. With Ubuntu 14.04 LTS, the desktop have evolved even more and have become both more elegant as well as easier to use. To give you the option to use the Ubuntu system in the way that you feel is best for you, we have configured the system so that you from the login screen can choose to log into a default Ubuntu or a Gnome or a classic Gnome Ubuntu desktop environment. Using GGS-Data Media setup that we include with every installation, you can amongst other things easily install licenses protected decoding routines for various media formats. We also offer service and after sales support on the computer and the Ubuntu installation. Ubuntu is suitable for desktop as well as server use and you can trust us to always be available to help You in building a complete and safe computing environment.
You can feel safe with us !


Some new features in Ubuntu 18.04 LTS

- released 2018-04-26
Ubuntu and Linux advances quickly and Ubuntu 18.04 LTS (codename Bionic Beaver) has been improved in many ways. A lot of the included software have been updated, improved and enhanced, and several new features have been included together with improved security in general. Ubuntu 18.04 LTS will be supported for 5 years, on both the Desktop Edition and the Server Edition, and when the next edition is released you can upgrade to it for free.
Follows is a short, but not complete, summary of new features added since the last edition with long term support.
GNOME 3.28 desktop

- GNOME is now the deafult desktop envinronment instead of Unity. GDM has replaced LightDM as the default display manager. Window control buttons are back on the right.

Ubuntu desktop

- X is the default display server. Wayland is provided as a Technical Preview and is expected to be the default display server in 20.04 LTS. There is a new look of the login screen. Notifications now show in the upper-center of the screen and are clickable. Status menu is located in upper right corner and the apps menu down to the left. The Ubuntu dock is to the left.

Linux kernel 5.x

- Ubuntu 18.04 LTS includes the Linux kernel 5.x as underlying infrastructure.

Firefox

- Ubuntu 18.04 LTS includes the latest fresh release of Firefox .

Thunderbird

- Ubuntu 18.04 LTS includes Thunderbird 45.

Nautilus (aka 'Files') 3.26

- Ubuntu 18.04 LTS contains Nautilus.

LibreOffice

- LibreOffice has been updated to 5.1 which comes with several new features.

Totem (aka 'Videos') 3.28

- Ubuntu 18.04 LTS includes Totem as movie player in GNOME Desktop.

Rhythmbox 3.4.2

- Rhythmbox 3.4.2 for playing of audio.

Remmina 1.2.0

- Remmina is a Remote Desktop application.

Shotwell 0.28

- Shotwell Photo Manager.

In relation to Ubuntu 18.04 LTS Server Edition there is also a lot of new features

LXD 3.0

- Ubuntu 18.04 LTS includes LXD 3.0

QEMU 2.11.1

- QEMU 2.11.1 is included

DPDK 17.11.x

- DPDK 17.11.x is included

Chrony

- Chrony is included

whats new in Ubuntu 18.04 LTS

- Welcome to read further information about new features in Ubuntu 18.04 TLS through the link below.

More about Ubuntu Desktop

- Welcome to read more about news in Ubuntu Desktop through the link below.

More about Ubuntu Server

- Welcome to read more about news in Ubuntu Server through the link below.

Why not take a tour in Ubuntu online: Ubuntu virtual tour

And an offer:


In relation with your purchase of Your PC we do give a 20% discount on - The Official Ubuntu Book. It means, You do pay SEK 230,- for the book instead of normally SEK 290,-. Send us a note in relation with Your order that You would like the book for the discounted price and get the most out of Your new computer platform.
The Swedish Ubuntu forum: Ubuntu - Sverige
Welcome to Linux for humans !